Do you need a well drilling company in Oak Hill?
Oak Hill, Florida is a throwback to "Old Florida" in that it is like stepping back in time.
Located just a few miles south of the popular New Smyrna Beach and with a population of just over 2000, this is the epitome of a small town.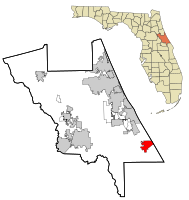 The town is squeezed between the Indian River and the massive Turnbull Hammock Conservation Area.
It is a favorite destination of fisherman from all over the country ranging from professionals to beginners.
The people here are very friendly and still wave at each other as they drive past.  The residents here are also very good at making visitors feel welcome.
Many of the citizens in Oak Hill work at Kennedy Space Center, which was the impetus to building Burns Science & Technology School which focuses on engineering and math.
Although the city is small and rural, it is only a few miles from big attractions such as white sand beaches and Orlando with its theme parks, restaurants, concerts, professional sports and more.
But What About Well Drilling?
Water wells are prevalent in the area and seem to be the water of choice in Oak Hill.
Quite possibly because it has become common knowledge that water wells are delivering clean, cool, chemical-free water 24 hours a day.
But where are these wells coming from?
Well, many are being drilled by a new player on the scene, Jon's Well and Pump Services Inc.
Jon's is a locally owned well drilling company that is owned by Jon Morin, a well-known name in water well work throughout the state of Florida.
Jon has been working in the well business for nearly 20 years and recently has branched out on his own. And success has come quickly!
Jon's is currently working in 5 Florida counties and performing a variety of services.
Water well drilling, well pump repair, water treatment systems, and irrigation work are some of those services.
Jon's is proud of its customer service and great reputation.  Check out our reviews on Google and Facebook to find the hundreds of satisfied customers!
Jon's offers 24-hour emergency service and all the work is guaranteed.
If you live in the Oak Hill area and need a new well, repairs to an existing well or other services, please give us a call orcontact us here!
Jon's Well and Pump is proud to be the Oak Hill Well Drilling Authority!
Return Home
See More Service Areas
Go to Bay Lake Well Drilling!