Seminole County Well Drilling and Pump Repair!
If you are looking for a beautiful area in the middle part of the state, then Seminole County is for you.
Known as "Florida's Natural Choice", this county has a wide variety of perks that is hard to match.
The county has been around since 1913 and is home to seven cities; Altamonte Springs, Casselberry, Lake Mary, Longwood, Oviedo, Sanford, and Winter Springs.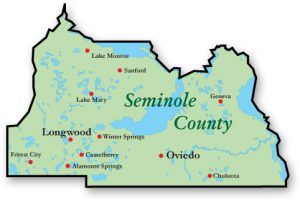 The area is fairly small with a mere 344 square miles including both land and water. The county population currently hovers a little over 400,000.
Named of course for the Seminole people who were the earliest settlers, it remains a place of great historical significance.
The county is a nature-lovers paradise with natural springs, scenic waterways, and picturesque parks that are a reminder of what "Old Florida" was like. These areas all provide ton-notch access to hiking, biking, kayaking, fishing, swimming, boating, birding and much more.
There is also an amazing zoo here that features an extensive array of animals, but also offers zip lining.
The towns in Seminole County are also fairly small but still offer a great deal. There are historic downtowns with quaint shops, restaurants, antique shops and art galleries that attract visitors from miles around.
The schools are considered some of the finest in the country with most institutions earning an "A" grade from the state yearly.
Small businesses continue to appear at an amazing rate due to the excellent climate for entrepreneurship that the county offers.
In reality, this is just a fantastic place to live if you are desiring a move to Florida.
Jon's Well and Pump Services Inc. is proud to serve every part of Seminole County. We have serviced clients in each of the cities and have many happy customers in this part of the state.
Jon's Well and Pump provides well drilling (both shallow and deep), well pump repair and/or replacement, water treatment system installation and sales, and irrigation work.
Jon's has only been around for a little over a year, but has become well know throughout Seminole County.
If you need a Seminole County well drilling company, please give us a call or visit our website!
We would be honored to serve you.