Lake Helen Well Drilling
Lake Helen, Florida is a quiet town that very well may be the most charming place in Volusia County.
Although it is right down the road from Interstate 4, the town still manages to maintain a rural feel.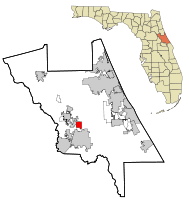 Lake Helen is best known for its amazing downtown historic district. The city is rife with attractive, older buildings including Blake Memorial Baptist Church, First Congregational United Church, Edgewood House, and Hopkins Hall (the oldest building in Lake Helen).
Of course, the city sits on the shores of a picturesque lake that allows for many recreational opportunities including boating, fishing, swimming, hiking, kayaking, and much more.
And for those who long for the comforts of big city life or beaches, they are just a short distance away.
Residents can hop in the car and be at The Worlds Most Famous Beach, Daytona Beach, in just a few minutes.
Orlando, which offers everything a person could ever want including Disney, Universal, fine dining, professional sports, and great nightlife, is also just a short drive away.
Lake Helen is just a fantastic little town with plenty to see and.
One thing you will notice here is that the residents and business owners tend to invest in water wells as opposed to city water.
The reasons include it is inexpensive to drill and the monthly water bills will stop forever.
But who is drilling all these wells in Lake Helen?
Well, the new number one choice for Lake Helen well drilling is Jon's Well and Pump Services Inc.
The owner Jon Morin is well known throughout Florida as an honest and knowledgeable worker who provides great service. That same man has finally opened his own well company and Lake Helen has responded by sending the company as much business as he can handle.
Jon's Well and Pump Services Inc. offers 24-hour emergency work and services four different counties in North/Central Florida. The company specializes in well drilling but also offers well pump repair and water treatment services for the home.
If your budget is small, the company also offers financing to help you create low payments. This allows you to begin enjoying clean, cool, drinking water immediately rather than wait until you have the entire sum.
If you are in need of a Lake Helen well drilling company, call Jon's Well and Pump today!
See More Service Areas
Return Home
Go to Oak Hill Well Drilling!