Do you need a Palm Coast Well Drilling Company that you can trust?
Palm Coast, Florida is one of the newer cities in the state. It was incorporated in 1999.
It is truly what people think about when they hear the name, "Florida". It is a tropical paradise with the Atlantic Ocean and its beautiful beaches just a few minutes away. And the 70 miles of fresh and saltwater canals can't be beaten.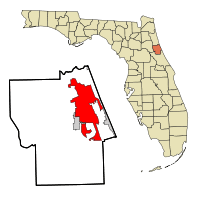 The preservation of the natural environment with the Intracoastal and over 12 great parks is a huge selling point. There is also well over 100 miles of trails for hiking/biking that all connect.
Of course, fishing and hunting are mainstays of this community and the area is also known for sporting world-class golf and tennis opportunities.
The town is a spectacular look at nature combined with a vibrant lifestyle.
Residents here are very practical and hard-working. One of the things you will see is an environmentally conscious mentality. This explains the large number of water wells that dot the landscape here.
Clean water is a hot topic everywhere and this town is no different. Well water has become the water of choice in the state of Florida.
But who is drilling all these water wells?
Well, the new number one choice for Palm Coast well drilling is Jon's Well and Pump Services Inc.
The owner Jon Morin is well known throughout Florida as an honest and knowledgeable worker who provides great service. That same man has finally opened his own well company and Palm Coast has responded by sending the company as much business as he can handle.
Jon's Well and Pump Services Inc. offers 24-hour emergency work and services five different counties in North/Central Florida. The company specializes in well drilling but also offers well pump repair and water treatment services for the home.
If you are in need of a Palm Coast well drilling or pump repair company, call Jon's Well and Pump today!
Go to Marineland Well Drilling