Are you looking for a Marineland well drilling company that is reputable?
Marineland, Florida is the smallest city in the state of Florida with a full-time population of under 100 people.  The town can be found only 18 miles south of St. Augustine on A1A.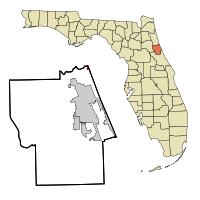 The town and its aquarium have become synonymous, but this is an actual town.  It has its own mayor and commissioners that hold monthly meetings.
Marineland got its beginnings back in 1938 with the opening of Marine Studios, which would later become Marineland.  In its heyday, Marine Studios was used by Hollywood to create underwater-based movie footage for movies.  It was extremely popular as it was one of the first to allow the general public to experience marine life up close and personal.
Although the town is tiny, there are several homes here, most of which rely on well water.
But why do so many residents choose well water?
Municipal water can be dangerous as evidenced by recent events.  It can contain chemicals, rust, and other dangerous items.
Conversely, well water is pure and straight from the Florida aquifer.  No dangerous chemical, no fluoride, just natural water.
Like all cities on the Atlantic Ocean, there are plenty of small businesses that serve the local community here.  One such small business is Jon's Well and Pump Services Inc.
Jon's has dug many wells here and responded to more than a few emergency calls for residents who have run out of water.
The owner of the company, Jon Morin is well known throughout Florida as an honest and knowledgeable worker who provides great service.  That same man has finally opened his own well company and Marineland has responded by sending the company as much business as he can handle.
Jon's Well and Pump Services Inc. offers 24-hour emergency work and travels to  five different counties in North/Central Florida.
The company specializes in well drilling but also offers well pump repair and water treatment services for the home.
If your budget is small, the company, the company will work with you to find a way to get the job done.  Our goal is to give all Florida residents access to clean, cool water from the Florida aquifer.
If you are in need of a Marineland well drilling company, contact Jon's Well and Pump today!
Return Home
See More Service Areas