Try These Deland Activities!
Have you been to Deland, Florida?
If not, you are missing out on one of the best kept secrets in the state of Florida!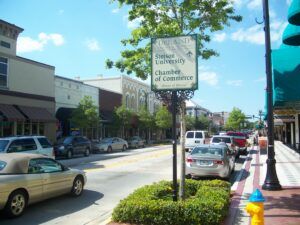 Located between scenic Daytona Beach and the number one tourist destination in the country, Orlando, the city of Deland has become a must-see.
There are a multitude of fun things to do here. In fact, mentioning them all would lead to a post that might take a day to read.
So we have condensed it down into what we consider the top 3 things you MUST see in Deland.
Let's get started.
The Stetson Mansion
First and foremost, any visit to this historic town should begin with a tour of The Stetson Mansion.
The Stetson Mansion is a jaw-dropping 10,000 square-foot Victorian dwelling that claims to be the first luxury estate in Florida. It is also listed on the U.S. National Register of Historic Places.
Built in the 1886 by John B. Stetson (think cowboy hats!), it was designed to be a palatial winter estate for the mogul. He was rewarded by his architect with a 10,000 square foot Victorian mansion that included 3 stories.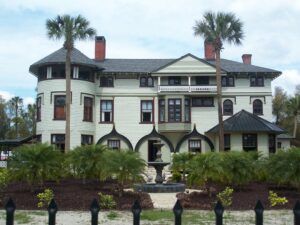 As the years passed, the home predictably began to fall into disrepair. However, two businessman purchased the home in 2005 and completely restored both the exterior and interior while subtly adding a few modern conveniences.
Luckily, anyone can now tour the mansion and view the entire estate. All rooms are open even though it is currently lived in.
The master bedroom is a favorite of visitors as is the large walk-in closet. The closet features 3 leather walls and a light fixture that is an original Thomas Edison.
Tours last approximately an hour for the Standard tour or an hour and a half for the Grand tour. During the tour, guests will learn about the history of the mansion, and see items that date to the 19th century.
There is something for everyone here and it should be on the top of your list when looking for things to do in Deland.
Persimmon Hollow Brewing Company
One of the overwhelming favorites of locals is the Persimmon Hollow Brewing Company.
Located in the historic district, this quickly became a favorite of ours.
It starts with the atmosphere. You can walk down brick covered Georgia Avenue and discover an old parking garage. Walk through the garage door and viola…you are in the Persimmon Hollow Brewin Company.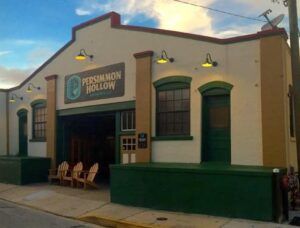 There are two owners, Robbie Carelli and Andy Sistrunk. They share a passion for craft ales.
They also share a motto – "Drink Sensibly, But Get Weird"! This alone should entice anyone to check out this amazing place.
Included in Persimmon Hollow (open since 2014) is a large tasting room, where you can get a 1-gallon growler, a 32-ounce beer or a pint. This is where the "Drink Sensibly" motto needs to make a return appearance…
There is a glass wall that separates the tasting room from the actual brewery. Intentionally, this makes the brewing process visible.
The brewery currently has eleven of its beer on tap including the politically incorrect Dee-Land White Boy.
But the thing that most grabbed our attention?
The men's bathroom with keg urinals. So cool.
You can now find Persimmon Hollow in Lake Eola as well as downtown Deland.
This is a must-visit!
The Athens Theater
It is rare in life to catch of glimpse of life a hundred years ago and partake in that life but that is exactly what can happen when you visit The Athens Theater.
Built in 1921, this masterpiece currently looks nearly identical to pictures from this depression-era building.
Like most old buildings, this one began to suffer from the perils of time and use. Luckily, local leaders saw the importance of such a vital part of the town's history.
In 1994, it was "mission accomplished" as the town purchased the theater and restored it to its original glory.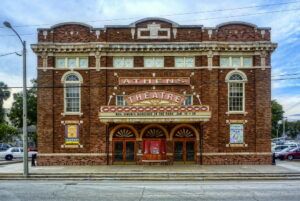 The theater is in a word…breathtaking. The architecture is nearly indescribable and has to be seen to be believed.
The Athens Theater now is a local cultural gem and offers plenty of entertainment including a wide variety of music and locally produced plays. In addition, community groups and local events are held there frequently.
No trip to beautiful Deland would be complete without stopping to see The Athens Theater!
The Final Word
And there you have it. The Top 3 Things You MUST See In Deland, Florida.
However, keep in mind there are tons of other great places to go here. The downtown area is fantastic and if you are an outdoors person, there are more great parks than you can shake a stick at.
Enjoy these 3 places on your next trip to Deland!
Check out our Deland Well Drilling page.
Go back home.