Do You Need A Brand New Well Pump? 5 Signs To Watch!
When a well pump is the primary source of water for your residence or place of business, it's critical to understand when it needs to be fixed or replaced. When determining the condition of your pump, there are typically five warning signs that you should watch out for:
No running water
Reduced water pressure
Air in pipes
Pump runs constantly
Unclean water.
It goes without saying that nothing is operating properly if there isn't any running water.
Your well may no longer be producing water for a number of reasons, such as a blown fuse or broken equipment.
Sometimes this is a simple fix, and other times it necessitates replacing or repairing the well pump.
In most cases, it is simple for experts to evaluate the situation and determine whether the problem is with the pump or something else.
In either case, a seasoned water well company like Jon's Well and Pump Services will find the best way to get your water flowing once more.
Low water pressure might occasionally be another indicator that your well pump may be malfunctioning.
Due to issues with the pressure tank, this issue is frequently rectified above ground. A hole in the pressure tank must be patched since it reduces the force with which the water is pushed out.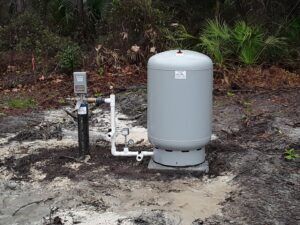 Low subsurface water volume is another frequent reason for low water pressure. To enable the water to be pushed at a faster rate in this situation, there may be pipes that need to be cleaned.
Even though it's not necessarily your pump's fault, this issue is a component of the water supply system.
Air shooting out of your faucets when you have a shower or use the sink is another possible sign that something is wrong with your well pump.
It could be that the pump is sitting above the water line, which will eventually cause your pump to burn out.
It could also denote that you have a crack in your pipes. In either case, air coming out of your taps is an indicator that it's time to call a professional.
Another problem to keep an eye out for is when you notice your well pump is constantly running.
Well pumps aren't meant to run nonstop, and if they do, they will eventually burn out. If your well pump never turns off, there may be a leak in your system, or your pump may not be able to draw water from the well.
The fifth main indicator that your well pump is having issues is dirty water.
If your well pump is too large for your well or is positioned too deep, it may be bringing in sand and dirt and causing your water to be unclean. Professionals such as Jon's Well and Pump Services can identify and address both causes.
To make sure everything is running smoothly, it is a good idea to arrange professional routine inspections of your well and well pump. If problems are found, immediately call a top-rated well pump repair specialist.
Inadequate problem-solving can result in needless, expensive damage. Don't hesitate when you have a well pump problem, call Jon's Well and Pump Services Inc.
We have been in the well business for 20 years and also offer 24-hour emergency support in case you run into a sudden, issue. We would be honored to install your new well pump!
Call us today at 386-801-5334 or contact us via our website!